CRM (Customer Relationship Management)
Subheader
CRM software helps manage the customer relationship life cycle for an organization's marketing and sales department. Consolidate and organize your customer's, vendor's and partner's information in order to automate processes and monitor performance and activity.
CRM systems help businesses accomplish the following:
Increase lead conversion.
Increase sales productivity.
Increase sales.
Increase customer satisfaction.
Increase referrals from existing customers.
Reduce time and financial costs to current sales processes.
Provides actionable insights into business performance.
Provides detailed information on customer behavior.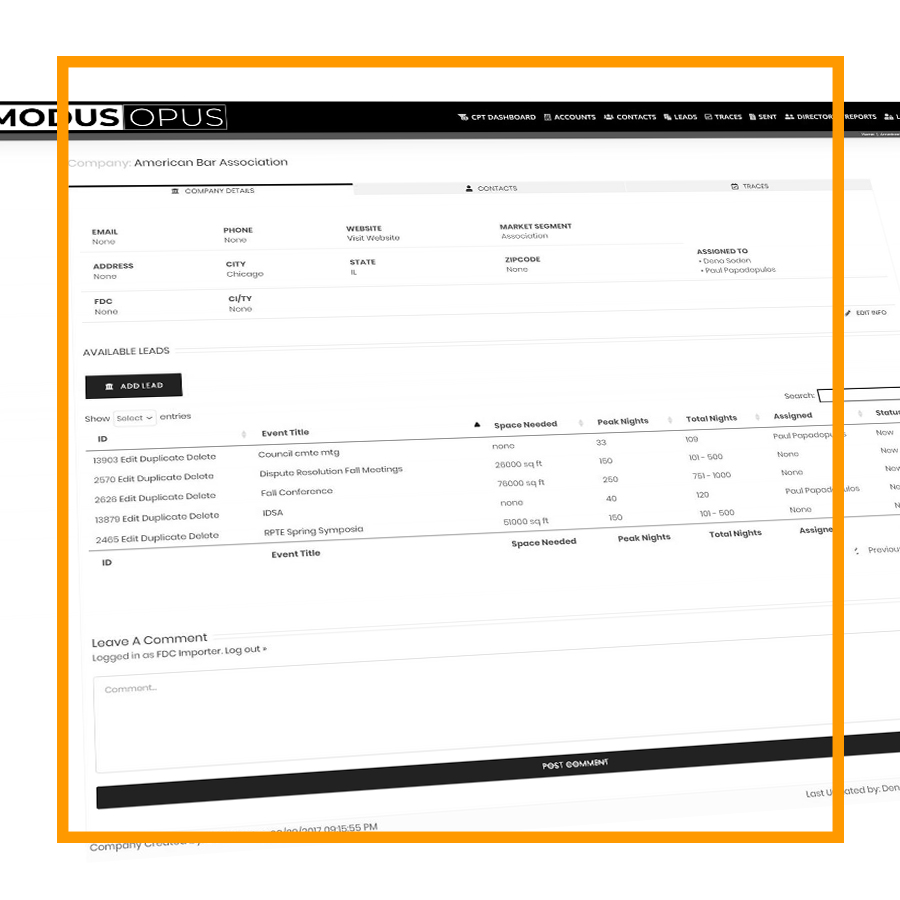 CRM Features:
An automated CRM is the foundation of successful marketing and sales departments. Though many CRM systems offer basic core functionalities, keep in mind that layout, organization, and navigational ease are paramount for usability. Additionally, tracking and reporting are also crucial segments of an exceptional CRM system. Our CRM features include the following:
Contact Management
Keep names, addresses, business names, phone numbers, email addresses and other contact information organized. Keep track of when these connections were last contacted, by who and by what means. You can even organize your contacts into different segments such as vendors, partners, leads, existing clients and more all while tracking your company's interactions with them.
Email Integration
Integrate email from gmail, yahoo, outlook, etc., in order to properly track interaction between your company and its' contacts. Drip email campaigns can be integrated effortlessly as well.
Quote/Proposal Management
Create and send customized quotes, proposals, MOU's and more to your potential customers. An additional feature would be to customize the quote/proposal process on how your business collaborates and communicates with its' customers.
Reporting and Analytics
Get routine summary reports of sales activity and performance on all sales personnel so you can track their success. Run these reports based on geography, funnel stage and individual sales team members. This function helps you troubleshoot problems while improving your sales processes as needed.
Lead Management
Converting leads into prospects and prospects into customers by moving them through the sales pipeline. We ensure the sales pipeline flows and transitions in a way that makes sense for your organization.
Document Management
Document, upload, store, and share documents in a centralized location, making it easier for everyone involved to access information. A centralized hub for important documentation can go a long way toward ensuring all team members are in the know, and promotes a smooth, consistent experience for your customers.
Pipeline Flow
Whether your organization has a longer or shorter sales funnel, we can customize it based on your business' needs. We provide an entire overview of your sales pipeline flow as well as the progress of client, customer, lead during each stage in the funnel.
Workflow Automation
Automate repetitive tasks such as follow up reminders in order to free up your sales team to focus on keeping their pipeline full.